Residents and visitors are being warned not to swim at Great Herring Pond due to concerns over a potentially toxic algae bloom.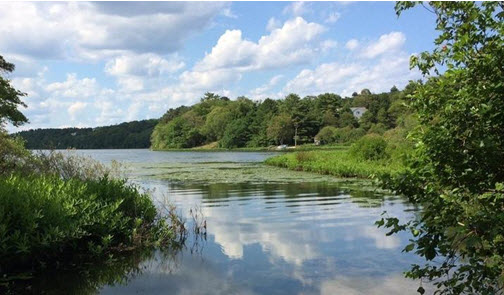 The Plymouth Public Health Department issued the warning while signs were posted around Plymouth's largest lake, warning of cyanobacteria contamination. Earlier this week, Ezekiel Pond in South Plymouth tested positive for cyanobacteria, which can cause severe illness and allergic reactions.
Located near Exit 2 on Route 3 in Cedarville, Great Herring Pond is a fully recreational lake used for boating, fishing and swimming.
Cyanobacteria is a toxic algae that often forms in ponds and lakes with increased levels of nutrients, primarily phosphorus and nitrogen from fertilizers and septic systems. The bacteria is not limited to Plymouth lakes, but inflicts lakes and ponds throughout New England.
According to the Plymouth Health Department's website, ingesting or coming in contact with cyanobacteria toxins can cause skin irritation, stomach cramps, vomiting, nausea, diarrhea, fever, sore throat, headache, muscle and joint pain, blisters of the mouth and liver damage. Swimmers in water containing these toxins may suffer allergic reactions, such as asthma, eye irritation, rashes, and blisters around the mouth and nose.
Cyanobacteria can appear as a bright green film that looks like paint in the water, according to Wicked Local, and resemble an oil slick on the surface. It may also look like floating algae, can have a fuzzy appearance, and often has a musty odor.
A confirmation of cyanobacteria bloom does not necessarily indicate it is toxic, the health department reports. However, all cyanobacteria blooms are treated as potentially toxic to ensure public health.