While the country may be headed for a recession, it will not greatly impact the housing market, experts say. In fact, home prices actually appreciated in three of the last five recessions, as the graph shows. In 1991, prices dipped just 1.9 percent. Only during the 2008 Great Recession did we endure significant home price drops, because the housing market had caused the downturn.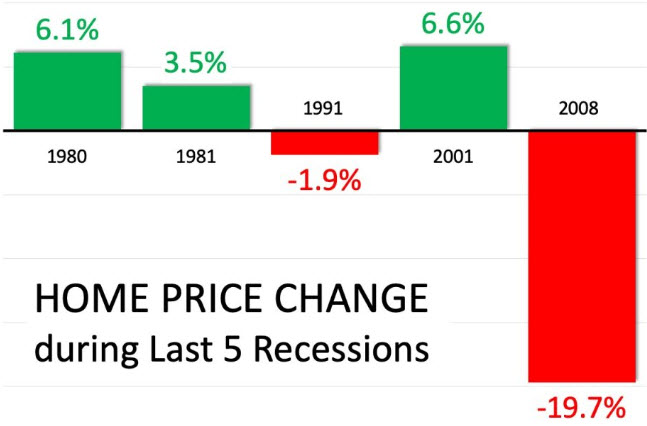 You will recall loose and shoddy lending practices that gave no-money-down mortgages to people with near-hobo status. Today, mortgage regulations have been tightened and housing remains in short supply. Don't worry. Home prices during the looming recession are projected to appreciate for the next 2-5 years. Sales are projected to increase in 2020.

The cause of the next recession will likely be reckless trade tariffs, a geopolitical crisis, and/or a stock-market correction. "This is going to be a much shorter recession than the last one. This will not be a repeat of 2008, said George Ratiu, Senior Economist for Realtor.com. "The housing market is in a much better position."
The upcoming election along with current trade wars may be the defining factors that ends what has been the longest running economic expansion in U.S. history. But, again, a slowdown by no means indicates a housing hit like the Great Recession.
Nevertheless, we're going to see sellers who were ready to put their homes on the market suddenly say: "We're going to wait a year or two." Those sellers will be hurt by making decisions, not on reality, but their perception of reality, false information and lingering memories of the 2008 housing crash.
Bottom line: The next recession will be much different and shorter than the one we saw in 2008.